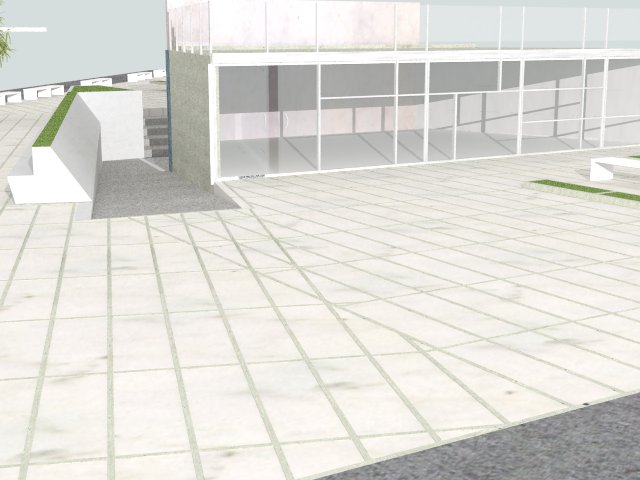 TOGEtHER
Our proposal is about gathering, both in the sense of creating places for people to assemble, and in the sense of acknowledging and assimilating the forces, both virtual and actual, upon an urban site. Our proposal provides a place of ritual and remembrance, while at the same time honoring the vibrancy and fortitude of the neighborhood and city.
The park takes place on multiple levels that converge at the virtual center of the site; each of these levels is anchored to a single large, simple stone wall, which 'gathers' the site's edges to it.
A grass slope forms an edge along West 12thStreet, creating a forecourt for the O'Toole building and access, via steps or a ramp, to an elevated platform. This platform is the roof of the Memorial Pavilion. A long shallow stream reflects eastern light onto the stone wall, and its glass base allows that light to wash the wall into the pavilion and the below-grade space.
The memorial narrative 'begins' at a cone-shaped, inscribed totem along 7thAvenue; the cone is also a light tube for a space underground. A wide and deep plaza, scaled for the avenue it fronts, provides benches, plant beds, entry to the pavilion at grade, and invitation to a wide, down-sloping ramp.
The ramp leads to a lower level amphitheatre, where the stone wall captures western light and provides a backdrop for night-time screenings and events. Along one side of the ramp, stories from the AIDS crisis are etched into a canted wall; on the other side, water flows down one edge of the pavilion—a flow from above. The flow feeds a channel of water on 2 sides of the lower plaza, marking a threshold.
From the amphitheatre, one continues the journey into the pavilion, where a mezzanine offers access into the community, exhibition, and meeting spaces below, as well as up to the pavilion at grade. Translucent glass planks set amidst pavers on the plaza allow natural light to the below grade spaces, and illuminate the park at night.
Finally, we propose a seasonal planting ritual, in which members of the community—survivors, neighbors, caregivers--plant a bulb in the fall, in the plant beds and in the slope, which will bloom in the early spring. An act of commemoration and hope, the ritual supports, in a very tangible way, the gathering at the heart of the scheme.